I have never been to the Andrews AFB Joint Services Open House and Air Show, mostly because it happens the same weekend as the Preakness. For some reason we have traditionally not really felt like doing anything the day after Preakness. Sort of an annual flu bug or something, I don't know. But today, despite a rainy forecast, decided to make the trip.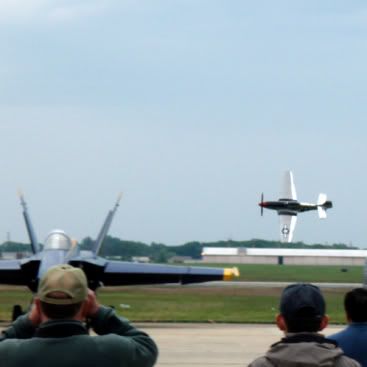 We didn't end up staying through the heaviest rain, and missed much of the afternoon program including the premier demonstrations like the Blue Angels. But still it was a memorable day.
I have to say, it is a real treat to be around the military in any circumstances. But a huge event like this is a showcase for the organizational and logistical skills of the Armed Forces, and was a joy to watch. I don't think I've ever been to a large scale event that was run this well. Parking was at FedEx Field, home of the Washington Redskins. The security checkpoint was there at FedEx, and then shuttle buses took people over to Andrews. An abundance of checkpoints, personnel and buses made that process a breeze.
Once we got to Andrews it was more of the same. Everything was clearly marked and meticulously organized. And, of course, when they say the program starts at 10:00, they mean 10:00:00, and it started right on time.
In addition to some cool aerobatic stunts, the static displays on the ground were neat as well. But as I said, it started raining pretty good and we started feeling the effects of the previous day and we decided to pack it in for the day.
But we'll be back next year, hopefully we'll have better weather.