I hit the water today for a couple hours. Mostly I wanted to test out my new Olympus 720SW waterproof digital camera (a Christmas gift from my wife), but I also just hadn't been fishing in a while. It was overcast and not too cold so conditions seemed favorable. But it was another slow fishing day.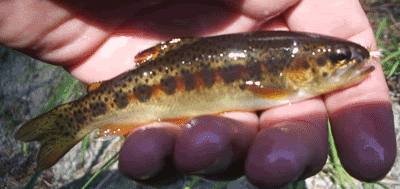 I did get this little beauty though (pictured above). Hey, is it just me? Or does this little rainbow from today look an awful lot like the Little Kern River Golden Trout shown on
Dave's Species List?
I know it's not, but I thought the resemblance was uncanny.
Now back to the camera. This is a nice camera with a really large screen, the whole thing is about the size of a deck of cards. It's shockproof and waterproof (you can take pictures up to 10 feet deep and it can stay underwater for an hour), so even if you don't use it for underwater photography, it seemed like the perfect fishing camera. I was excited to try it out and I will say this, even though I knew it was waterproof it was not easy putting it under the surface, it just didn't seem right! But it does work. The water today was a little murky, but when I got that little rainbow on the line I just held the camera under and snapped a half dozen shots. Although this one's not great, it is the best of the bunch, and it's plenty good enough for me to be encouraged. With some more practice and some gin-clear water, I think it's capable of some really cool action shots.
So that's it for 2006. Happy New Year everyone! I hope there is very little time between your last 2006 fish and your first 2007 fish. My new years fishing resolutions are to practice my casting much, much more, and to catch three new species this year (steelhead, striper, largemouth bass?).