The Kentucky Horse Park in Lexington is quite an impressive place. The location of the Rolex Eventing World Championships (more on that later), the Park also has a very nice museum and a barn with some of the most accomplished leaders of equine sport alive today.
This is a statue depicting Secretariat dancing to the winner's circle at Churchill Downs on May 5, 1973, Ron Turcotte aboard and groom Eddie Sweat alongside.
More Secretariat treasures could be found inside the museum.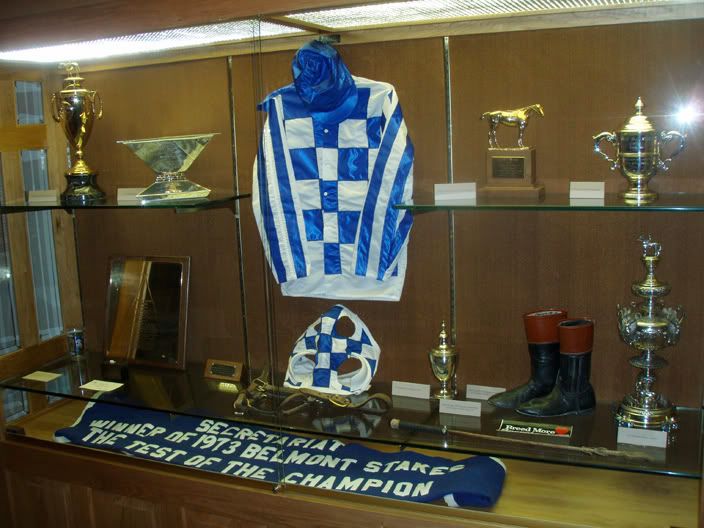 In the Living Legends category, few horses are bigger than horseracing's richest thoroughbred, Cigar. I snapped more pictures of him, but I like this one best. Content in retirement, living in luxury and seemingly still race-fit, Cigar is seen here waiting for the next parade of champions.
While driving through the scenic Kentucky countryside in spring, you will see countless miles of paddock fence bordering countless acres of rich, green pasture. In those pastures you will see countless horses, and most of them will have foals nearby. The hills of Kentucky, mild in climate and rich in tradition, are factories not only for fine bourbon, but for fast, fast horses. I think about the astonishing number of horses that come out of this amazing place, year after year after year, to enthusiasts and trainers and investors and competitors and breeders. I think of what a small number of these horses possess truly special potential, and what a smaller number still reach that potential.
And then the smaller number of those that isn't ruined along the way by injury or attitude or plain bad luck. Throw out the ones who had everything going for them all along but stumbled out of the gate on a Saturday in May, or clipped heels with a lesser horse in front or didn't like the conditions of the track. Ponder all of that and the Greatest of the Great, Cigar, Secretariat, Seattle Slew, well they just get larger than life. These horses, past and present, this place, even on a warm spring day, just gives me chills.