A Spinoni (Enzo), three Setters (Gus, Jus and Smoke) and a Pointer (Gem) helped make the trip more productive for the bird hunters, and certainly more enjoyable for me. These five dogs, some of whom met eachother for the first time here, got along great. Bird hunters are serious about their dog training, and as a result these dogs were well behaved and a real joy to be around.
This is Gem posing with her first taken bird, a woodcock. Great dog. That's my friend Ed's beautiful shotgun. All the guys had shotguns suitable for hanging in any fine art gallery, but this one is special.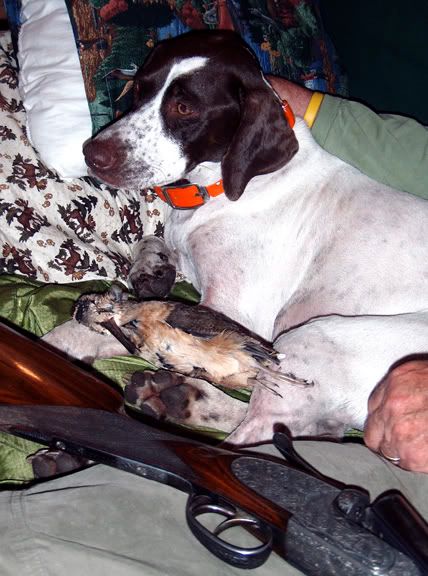 This is me with my traveling buddy, Enzo. Spending a week with this dog, including two VERY long travel days, has put the Spinoni breed on my short list of possibilities for my next dog. Sweet, friendly, and as goofy as a Maine winter is cold.