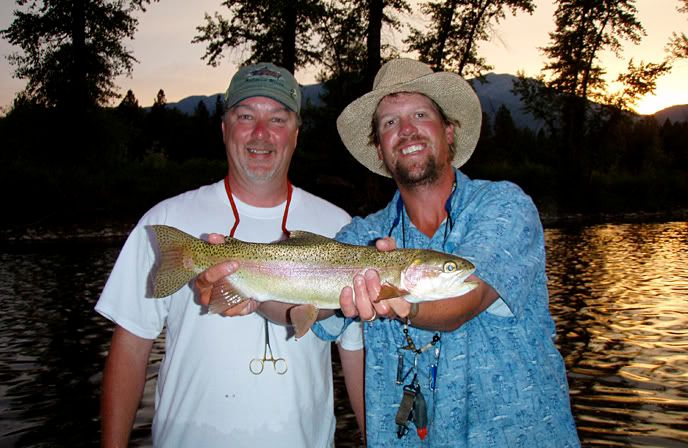 Our float trip with
Jay Dixon of Dixon Adventures
has been booked for six or eight months. So when the forecasts kept creeping higher and higher, well over 100 for the day we were to go fishing, Jay really earned his fee. He put a LOT of thought and energy and expertise into trying to give us the best possible fishing day under really, really tough conditions.
105 degrees was where the day was headed, so we decided to go out later in the day. Probably close to 4:00 (and 103 degrees) when the boat hit the Bitterroot. However, soon after we were underway, we saw the first cloud cover of the week, and it helped take the edge off the temperature immensely. That was for our comfort, though, the fish were another story. Every reading Jay took in the river was over 70, most right around 73.
But he had some tricks up his sleeve, and after some immensely helpful casting instruction for both Sandy and I, we fished some places that had cooler water coming into the river. It didn't take long before we started catching fish. In fact, in our first six fish, Sandy and I had each caught a brown, a rainbow and a cutthroat. These Westslope cutthroat are beautiful fish, this was the first time I've caught one. Always nice to add a new one to the list! I would have liked to put these photos in chronological order, but the last fish of the day, above, had to be the headline photo. Beautiful rainbow caught in rapidly fading light. Jay guessed it was probably just shy of 20", but it's certainly a trophy to me no matter what it measures.
But for a good part of the day, all the bigger fish were getting caught by Sandy. Here's a beautiful brown.
I don't know if she'll let me keep this cleavage showcase photo up, but I am going to try and sneak it in under the radar because not only is it a really great fish, at that time she actualy held the household record for nicest trout! That lasted just a couple hours, but I was very proud of how well she did. She took direction from Jay really well, and was very good at line and fish management once she got a fish on. Her landing percentage could very well have been higher than mine, but we both had a great, great day.
So if you're looking for a great day of fishing, I highly recommend
Dixon Adventures
. Jay worked VERY hard for us, to get us to fish in tough conditions, and give us the tools we needed to land them. Thanks Jay! We'll be back next year!