At the Redskins game Sunday I was watching the Air Force soloist belt out a tremendous version of the National Anthem when my buddy tapped me on the shoulder and directed my attention to the four fighter jets getting larger in the sky across the stadium. I fumbled for the camera and snapped two pictures. The first was from pretty far away still and you see that view above. Then, right around 'Home of the Brave,' the jets - which were pointed straight toward our upper deck seats - flew directly overhead.
I don't remember if I ever put the camera up to my eyes, but as the jets screamed overhead I apparently clicked the shutter, my hands having dropped to my side as my head was turned upward, jaw agape. The sound was deafening. And then it got twice as loud. I totally lost interest in capturing it with the camera, and was just so thrilled to be experiencing it.
It. Was. Awesome.
Rick Walker, on the staff of Extremeskins.com, evidently had his wits about him more than I, and took these really cool shots. I publish them here courtesy of Rick and with his permission. Thanks Rick!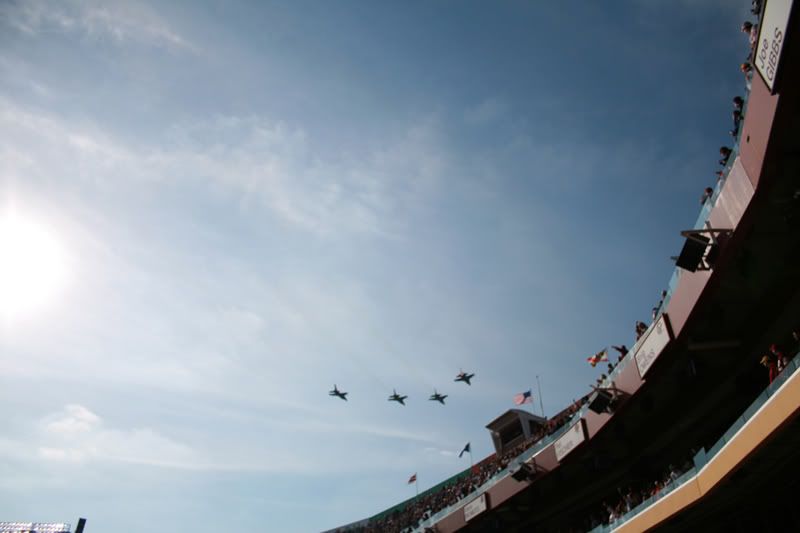 I've seen flyovers before. Preakness comes to mind. But maybe the fact it was Veterans Day, maybe it was because we were so high up that the jets seemed REALLY close, but this was an indescribably powerful thing to witness.
God Bless America. THANK YOU VETERANS!